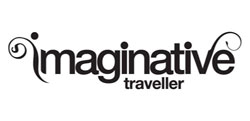 The Imaginative Traveller, is a UK based adventure tour operator have been pioneering small group adventure travel since 1991. The Imaginative Traveller operate across the world and are known for their innovativeness, high customer satisfaction rate and award winning guides.
Why book Imaginative Travel with Travel Light?
Travel Light are experts when it comes to Imaginative Traveller tours as 2 of our staff members have been Imaginative Traveller tour leaders! Look out for the Imaginative Traveller logo when browsing through tours on our website and contact Travel Light for expert advice and to book your next Imaginative Traveller tour!
Travel Light offer Imaginative Traveller tours to: Borneo, Cambodia, Chile, China, Egypt, Ethiopia, Galapagos, Himalayas, India, Japan, Jordan, Kenya, Laos, Madagascar, Malaysia, Mali, Morocco, Mt Kilimanjaro, Nepal, Singapore, Tanzania, Thailand, Tibet, Turkey and Vietnam

5 Reasons to book an Imaginative Traveller tour!
Imaginative Traveller Rewards
Three great ways to save: the Early Bird Reward offers a 5% discount off any trip booked 6 months or more in advance; the Loyalty Reward offers a 5% discount off any trip if you are a returning client; and the Group Reward offers a 5% discount off any trip if you are booking for 6 or more people. Or combine ALL THREE for a superb deal!
Imaginative Traveller Outstanding Tour Leaders
A tour leader can make or break a trip. When you travel with an Imaginative Traveller tour leader you can be assured that you are travelling with the best. Travelling abroad can be intimidating at times and if there is someone there who knows the ropes, can take care of logistics and provide intimate insights to a culture or destination it can make all the difference to your holiday experience. Imaginative Traveller tour leaders regularly receive the highest feedback – proof in itself!
Imaginative Traveller Destination Managers
Unique to Imaginative Traveller. These experts are passionate about the region they represent. Using their in depth local knowledge they design your tour from start to finish and will be on hand to smooth the way. This means we can offer excellent customer service from start to finish. Imaginative Traveller Destination Managers are the main reason that our clients say 95% of our itineraries are outstanding and 91% will travel with us again.
The Imaginative Traveller Concept
Imaginative Traveller aim has always been to provide exceptional travel experiences. They believe that travel should be stimulating, and that it should give you an authentic experience of a place. We want our travellers to relish the amazing diversity of countries and cultures the world has to offer through our repertoire of over 300 worldwide adventures. Our focus is on innovation, not imitation. Our small, intimate groups are an international mix of like-minded travellers who appreciate our obsession with quality and commitment to sustainable tourism as well as our imaginative itineraries.
Book Now!
You only need £100 deposit to secure your trip today so go ahead and make that booking!


Share our passion for a style of travel that is active, interactive, responsible yet fun!
When The Imaginative Traveller embarked upon their first adventures in 1991 their goal was to give their travellers exceptional holiday experiences. They have come a long way since then becoming one of the foremost operators in adventure travel but their approach to travel remains the same "hands on" and the passion for travel is a strong now as it has ever been.
Responsible Travel is older than the trend
All Travel Light's preferred travel tour operators not only work using responsible travel ethics but have been leaders in developing sustainable travel throughout the world.
*All Rand prices have been calculated at 1USD=ZAR8.00 or 1GBP=ZAR16.00 and are subject to change according to currency fluctuations